What is cPanel Hosting?
What Is cPanel Hosting?
cPanel hosting is essentially Linux-based web hosting that includes an installation of cPanel. The hosting plan provides a cPanel account to control your web hosting elements.
With that in mind, cPanel can be used in different types of hosting, including shared, dedicated, and managed WordPress hosting.
This control panel is a good choice for beginners looking for a straightforward control panel solution. However, just like other hosting control panels, cPanel has its benefits and drawbacks.
User-friendly interface. The cPanel interface categorizes various features under manageable modules, allowing users to locate them easily. The cPanel dashboard also comes with intuitive menus and graphics for smooth navigation.
Highly compatible. As one of the most popular control panels, cPanel is compatible with several web browsers, including Google Chrome, Safari, and Mozilla Firefox. Additionally, cPanel supports many third-party applications, including site builders and SEO tools.
Wide range of features. Requiring no advanced technical knowledge, cPanel lets users perform complicated tasks such as creating subdomains and FTP accounts, managing MySQL databases, and generating site backups.
Automatic software installation. Not only does cPanel provide numerous features, but it is also well-integrated with the Softaculous Apps Installer. It grants access to more than 400 applications, including popular content management systems. Softaculous takes care of each application during its whole lifecycle, from installation to updates.
Reliable support. The cPanel forums and blogs contain plenty of resources. Dedicated technical manuals for both cPanel and WHM are also available. They explain how to use and solve issues with cPanel products.
cPanel Tutorial: How to Use cPanel
Now that you know the pros and cons of cPanel, it's time to learn how to use it. Before jumping into the first cPanel tutorial, we will go over the different ways to access it.
Generally, most hosts will include a direct link to the cPanel dashboard in the welcome email. However, if there is no link attached, you can log into your cPanel account via the browser's address bar.
If your site address begins with HTTP, simply add :2082 at the end of the URL. For a site address that starts with HTTPS, write :2083. For example:
http://your-site-address.com:2082
https://your-site-address.com:2083
Access the URL, and it should take you to the cPanel login page.
Type in your cPanel username and password and click on the Log in button. Once you're inside the control dashboard, you should see various modules and features.
We will explain each section along with the main functions.
Files

The Files section contains features for direct file management. From this section, you can upload files without an FTP client, specify privacy levels, and set up a backup wizard.
Using File Manager
cPanel includes an easy-to-use file manager that works like desktop file explorer applications – users can easily edit, remove, or add files and folders.
Clicking on the File Manager button will take you to the page that lists all of your website files.
From there, you can start performing various actions by clicking on the respective menu button. For example, if you want to move a file, select one and click on the Move button. This will trigger a prompt to appear – simply fill out the new path and click on the Move File(s) button.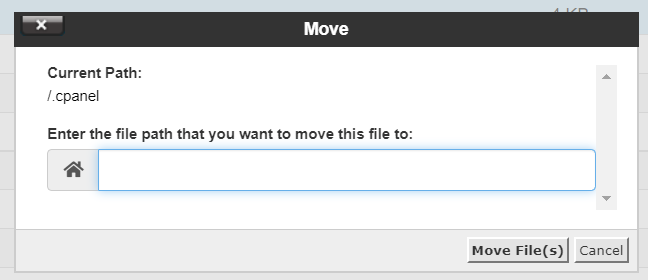 Keep in mind that every file in cPanel can affect your server, so be careful when modifying them to prevent any site errors.
Preferences

This is where you can configure the various aspects of the cPanel dashboard, such as language, theme, and user information. The module also includes features to add a new cPanel account and manage the password.
Storing Basic Information
One of the most important features of this section is adding your contact information. Use the Contact Information application to store your contact information and preferences.
Start by including your email address in the provided field – the system will notify you of any activity in your account, like reaching your mailbox and bandwidth quota.

Then navigate to the bottom of the page and check the boxes based on your contact preferences. For example, if you want to get notified when your email address is changed, click on the respective box.
Simply check the boxes to receive notifications about specific circumstances. Be sure to click Save when you're done.
Databases

If your website uses a content management system (CMS) like WordPress, it will need a database to store all the important data and information, such as usernames, passwords, and posts.
This section is all about managing the databases – its tasks are mostly done via MySQL Databases and phpMyAdmin.
Create Databases and Manage MySQL Users
Click on MySQL Databases. On the New Database section, enter your desired database username and click Create Database.

A new database will be added to the Current Databases list.

To add a new MySQL user, scroll down to the MySQL Users section. There, enter the username and password and click Create User.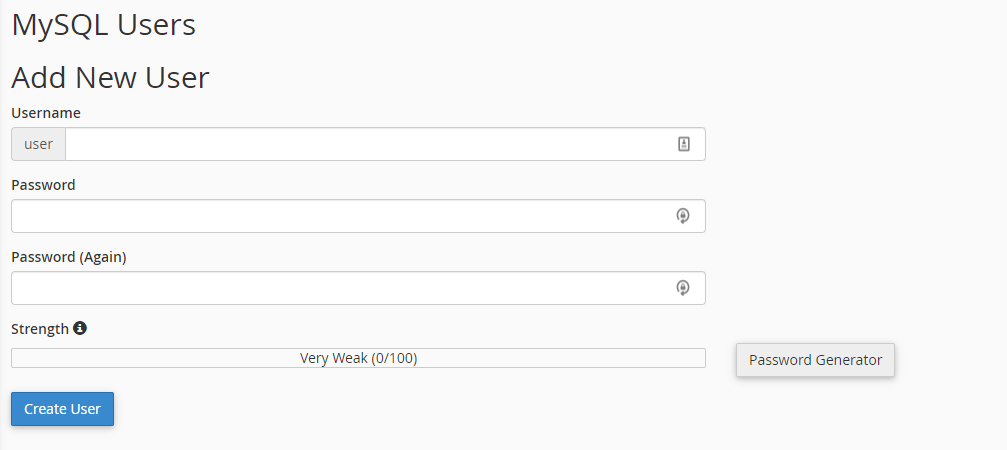 When you're done, navigate to the Add User To Database section. Click on the dropdown menu and choose the new user and database – this will grant the user access to the selected database.

Once you're done, you can start importing your files into this new database via phpMyAdmin. To ensure reliable site performance, try optimizing your database.
Softaculous Apps Installer
Softaculous is a script library that automates the installation processes of various applications. The most popular software includes WordPress, phpBB, Joomla, and Drupal.
Thanks to the seamless integration with cPanel, you can directly install any software right from the dashboard.
Install Software With Softaculous
Start by selecting the script you want to install. If you can't find the software under the Script section, try browsing through the categories.
In this example, we will show how to install WordPress – continue by clicking on its icon.
Before you install WordPress, read the requirements to make sure you have the necessary resources.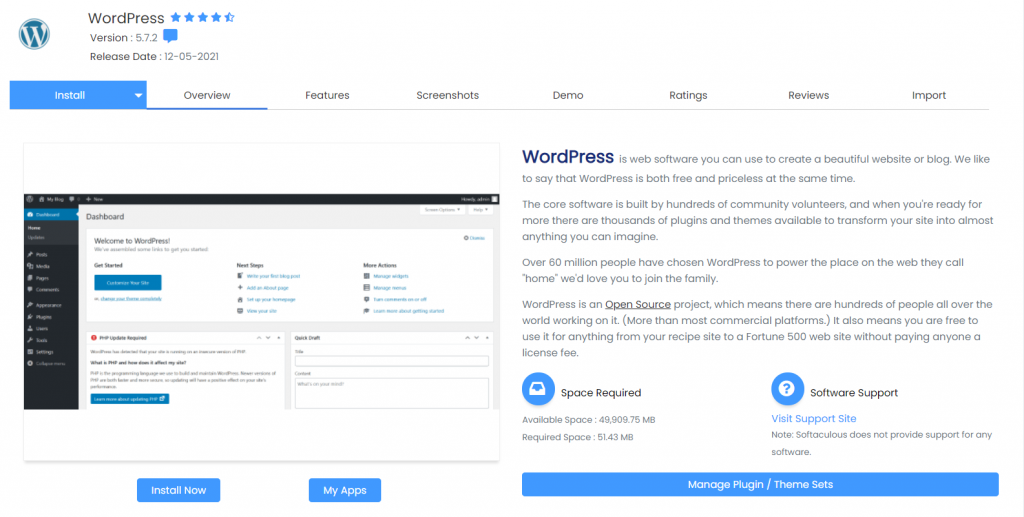 Clicking on the Install Now button will prompt you to configure the software setup and site settings.
Simply choose the installation URL and specify the options for your WordPress website. Additionally, you can create an admin account, select a WordPress theme, and pre-install multiple plugins.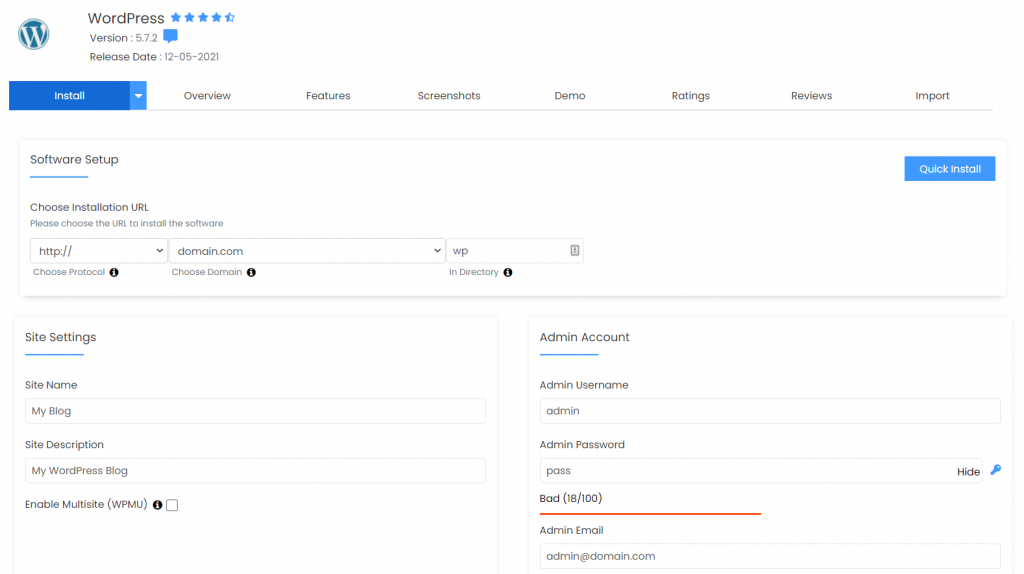 Once you're done, click Install to start the WordPress installation process.
Software

Generally, your web hosting will set up a dedicated section for the Softaculous Apps Installer. However, you can also find the auto-installer under the Software section, along with other scripts and applications.
Since this section mainly deals with programming languages, such as PHP, Ruby, and Perl, it is mostly used by advanced users.
That said, if you have a Cloudflare account, you can sign up and enable it here.
Setting Up Cloudflare
To set up Cloudflare for your website, simply click on the Cloudflare icon and enter your credentials to sign in.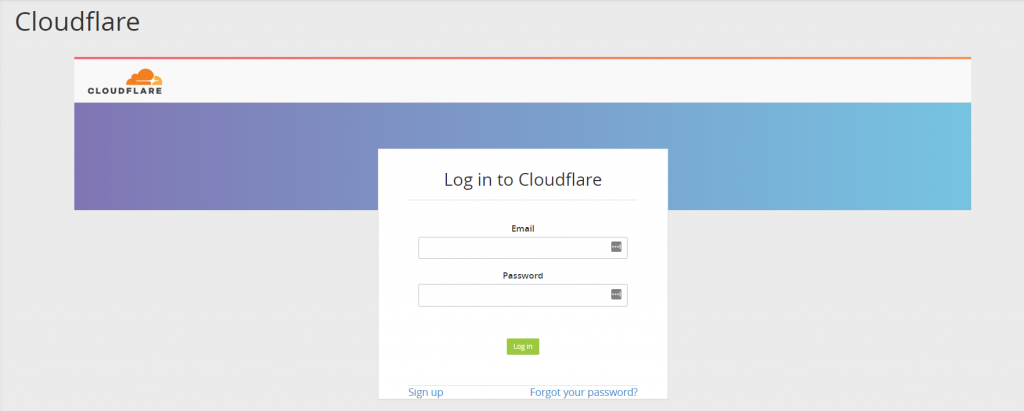 Once you're logged in, click on the Domains option, and you will see a list of active websites with their DNS details.
The easiest way to set up Cloudflare is by adding the CNAME records. This will point a subdomain to your main domain. Go ahead and click the Provision Domain with CNAME Setup button.
This will change the status to active, enabling Cloudflare on your website.
Domains

It's common for webmasters to use one hosting account for multiple sites. Hence, the Domains section provides the features for all domain-related tasks, such as managing domain names, setting up addon domains for newly purchased domain names, and creating parked domains.
Using the DNS Zone Editor
cPanel contains Zone Editor to create, edit, and manage DNS (Domain Name System) records. This feature performs multiple actions, from adding an MX record to managing domain configurations.

To create an MX record, simply click on the respective button. This will open a new page – enter the priority value in the Priority box and a fully qualified domain name in the Destination field.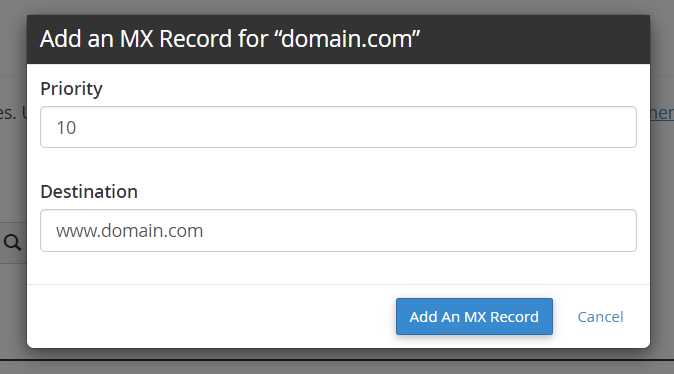 Finally, click Add An MX Record to save the changes.
Metrics

The features listed in this module work to track website statistics, from counting the number of visitors to monitoring resource usage. These metrics give you access to insights that can help you make decisions to improve your website.
Viewing Traffic Statistics
Every tool provides extensive reports of your site. For instance, the Awstats feature is integrated with the AWStats software. It reports traffic statistics hourly, daily, or monthly.
Moreover, the software records visitors' data, including their browser and location information. This helps analyze their behavior and make changes to improve performance.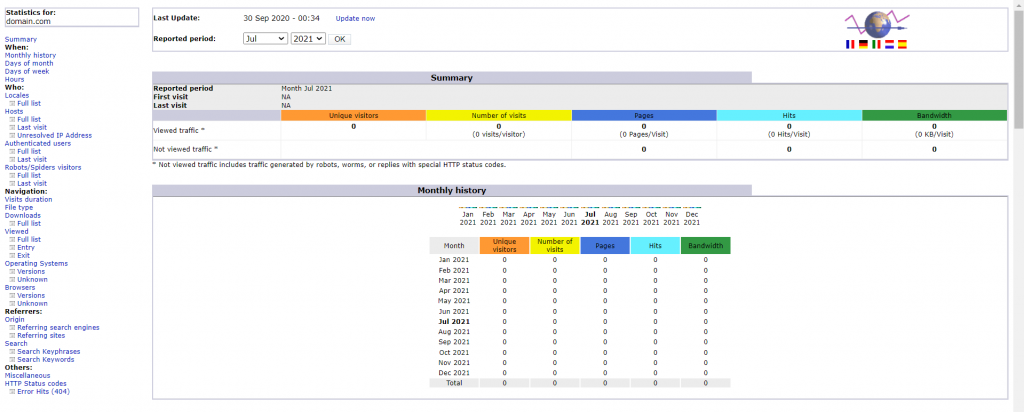 To view specific information, simply find the options on the left sidebar. To view reports on a specific timeframe, change the Reported period.

Security

Security is a big concern for every site owner, especially if you store sensitive information such as credit card details. This module helps you keep an eye on key security settings on your hosting account.
There are multiple features to optimize your site security, including SSH Access to connect to your server via SSH and SSL/TLS to enable SSL certificates for extra security. Another essential feature is the Hotlink Protection that prevents other sites from stealing your site resources.
Configure Hotlink Protection
Hotlink protection prevents your files from being used on other sites – preserving your bandwidth amount. To do so, open the Hotlink Protection feature and configure the settings.
To allow specific sites to use your files, simply list them in the URLs to allow access section. Meanwhile, to specify which types of files to restrict, write down the file formats under Block direct access for the following extensions.
Additionally, if you want to redirect requests for specific content, fill out the URLs in the provided field. Once all the fields are filled out, click Submit to save the changes.
Advanced

As the name suggests, the features in this section are dedicated to advanced users who want to have more control over their websites by managing the server, tracking network information, and clearing site cache with LiteSpeed.
One handy feature in this section is Cron Jobs. It automates commands or scripts on your site, like setting up a scheduled backup or deleting files after a certain period.
Create a Cron Job
Click on the icon and add a Cron Email in the provided field to receive notifications whenever a specific cron job is running.
Be sure to click on the Update Email button before moving on to the next section. Then, specify what type of cron job you want the system to perform. Enter the command you wish to automate in the Command box and click Add New Cron Job.
Email

Not all web hosting plans feature email, but if your plan includes both email and cPanel, this is where you'll administer all email-related tasks.
From setting auto-responders to creating custom email accounts, these features will help complete those tasks efficiently.
Create an Email Account
Use the Email Account feature to create, delete, and manage email accounts from the cPanel dashboard. Clicking on the icon will open a list of active email addresses on your website.
To add a new one, click Create.

A new window will open. Start by filling in the requested information. Once you're done, click the Create button.
Repeat the process to create another account.